We know that there is always that one friend that is too conscious with his car. It got to the point that he has very strict car rules: you can't lean on it, you can't eat inside, you can't get inside with your dirty shoes and the list just goes on.
Want to help him loosen up? Here are  some funny and easy-to-pull-off car pranks.
8. Post-it up!
This prank is the least damaging of all and quite easy to pull off. All you need is a huge pile of Post-its and a lot of time. To make this prank perfect, you have to make sure that every corner of the car is covered with Post-its!  To make it even more special, you can also use different colors or even write on them. And then you just wait for that epic moment when your friend comes out and sees his car.  Also, don't forget to capture that moment!
7. The saran wrap!
This prank is just as simple as the Post-it prank. First, cover your friend's car with a saran wrap.  To make it even more difficult for your friend to remove, you have to wrap it in different directions. So it takes more than just one person to pull this prank.  A group of two teams will be perfect for the job; one will hold the saran wrap and the other will roll it around.  Just wait for your friend's reaction when he sees what you did to his car — epic.
                       Check this video of a kid pulling off a saran wrap car prank on his friend.

6. The exhaust whistle
This prank will make any car guy paranoid. All you need to do is put an exhaust whistle in your friend's exhaust pipe and the moment they start and accelerate their car, they'll hear these weird noises that will make them think that they're experiencing a mechanical problem.
5. Move the car.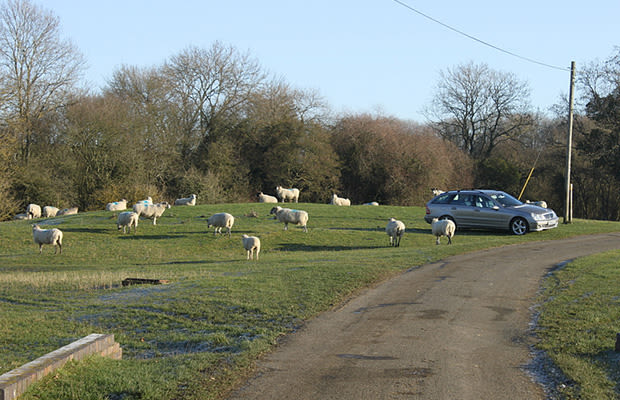 This prank might seem simple but it is quite a challenge because you need to have full access to your friend's car. Once you get a hold of your friend's keys, just park it in a place that he least expects it to be. We bet your friend will freak out once he sees his car is not parked where he left it.
4. Hidden music
If you want to really annoy your friend, then this is the prank for you. First, get a device that makes high-pitched noises or music at random intervals, and make sure that it's small enough that it's difficult to be found. But remember, you also have to hide it really well to lengthen the agony. Your friend might just go nuts every time he hears the noise!
3.  Fake parking ticket
You can never go wrong with this prank because it will surely make anyone panic and worry (it's bad but that makes it a good prank). You can buy fake parking tickets and put it directly on your friend's windshield. Or you can make your own fake fine letter and send it to your friend via mail.
                   Check out this fake ticket prank video that will make you smile.
https://www.youtube.com/watch?v=wsvymV8C2zs
2.  The for sale sign.
This prank can work both ways. You can put your friend's car on sale on Craigslist for the lowest price possible. Or, you can do it the old school way. For this to work, your friend's car has to be outside. Then, just put up a "For Sale" sign with your friend's contact details.  After a few days, people will start calling your friend and for sure, he will be utterly confused on what is happening.
1. Fake broken window
This prank is guaranteed to make your friend explode and go crazy with rage.
Don't worry, you're not really going to break your friend's car window.  Just follow these easy steps: first, scroll the window down; second, get some fiber glass and break it into pieces (it has to look like real broken glass); and lastly, set it up at your friend's car window and make sure that it looks like someone broke it intentionally.
Check out this video of a fake car break-in prank!
---