Tired of your old and boring jack and jack stands? Maybe it's time to upgrade and replace them with something new! Check out these cool and innovative jack and jack stands that we have discovered and we promise —  fixing your car will never be the same.
The RakJak Pneumatic Jack!

Rakjak Pneumatic Jack is one of the newest products in the automotive market. It can lift your car faster than your normal jack. Plus, it is compact and thus, easier to use. Another plus on this product is that it is maintenance free which means, less hassle and stress. This jack also comes with different versions that vary depending on how high you want to lift your vehicle. But, on the down side, this product can be quite pricey for an average joe since it retails to $600 to $800 each.
Do you think this product is worth the price?
Click here to know more: Rakjak
The "My Lift Stands"!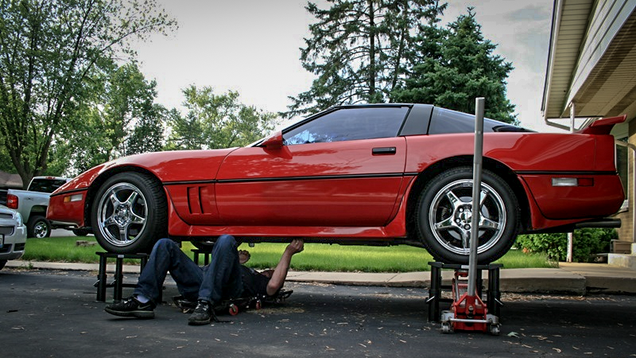 Working on your "baby" can be quite the challenge at times, especially when you don't have enough space and access to move around. My lift stands by Lift Stand Inc. could be the answer that we've all been waiting for. This 4 post jack stands provide enough space which makes working more comfortable and easy. It also gives you the feeling that you're your own professional mechanic, and we know how that feels good.
The Craftsman Jacking System, Lift and Secure!
Here is another innovative product brought to us by Craftsman. This product lifts your vehicle just like any other jack, but what made this product unique is its ability to leave a jack stand in place. Yes, you've read it right! This jack does not only lift your vehicle, but the front part detaches and acts as a jack stand. This would make fixing your car easy and hassle free.  Now, the question is if the so called "jack stand" is stable enough to hold the vehicle's weight, this is something we still need to find out. On the good side, the Craftsman Jacking system, Lift and Secure is more affordable compared to other two products mentioned above. It retails for only $279 to $299.  Check out the video below and see how it works:
The Safe T Jack!
Here is a similar product to Craftsman Jacking system and it is called Safe T Jack. These two products offer the same feature – having its own built in jack stands.   According to safetjack.com it offers four features which is "Safety – The user never gets under the vehicle to place a stand. Optimal Performance – The stand is placed at the optimum manufacturers recommended lift point. Convenience & Speed – The process of transferring the weight from hydraulic to mechanical stand is eliminated. And, Cost Effective – Fewer mobile power units needed in a commercial garage operation as one MPU can operate many individual jack stands." To know more about this product, see the video below:
Out of the four products which one will you consider to buy?